"I biked Massachusetts using Rubel Bike Maps!"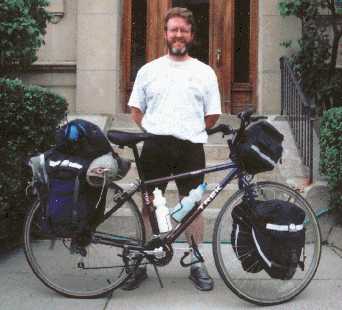 Packed up and ready to go.


Hello. My name is Kenneth Dumas and in the summer of 1999 I took a month long bike trip all over Massachusetts. The idea was to be spontaneous and have no real plan. On any given day, I never knew where I would go. I just followed my nose. However, in order to do this, I had to have great resources to find lodging and the best directions for travel. Rubel bike maps did that for me. Armed with my set of four Rubel maps, covering the entire state, and a Massachusetts camping guide, I set out on my Trek (pun intended). Below are some pictures from my trip.




| | |
| --- | --- |
| Pilgrim's Monument in Provincetown, Mass. | Downtown Orange, Mass. at sunset |



Rubel maps showed me the best roads to take. Leading me to state parks, beautiful vistas, and old mill towns frozen in time. The highlighted roads on Rubel maps kept me away from dangerous highways and industrial areas. As I meandered across the state, I stayed at a campground or Bed & Breakfast each night. All of the B&B's I stayed at were on Rubel maps. They were all affordable, and catered to cyclists. Their addresses and phone numbers were right on the map, making getting a reservation easy. Rubel maps also have bike shop locations incase of an emergency. It was nice to know where the next shop was in case I needed it.




| | |
| --- | --- |
| Cape Cod Rail Trail | North Adams, Mass., the "Spire City." |




Best of all Rubel maps highlight the "homemade ice cream" shops. Nothing tastes better on a hot day than great ice cream. Even after my trip was over, I found I still use Rubel bike maps often. When I take a local trip on a weekend for enjoyment, I always have my Rubel bike maps with me. They are an invaluable tool for exploring Massachusetts. I highly recommend them.


Kenneth Dumas

Any questions or comments about my trip please e-mail me at kosh@ctps.org.